SysTools Access Password Recovery
SysTools Access Password Recovery utility successfully recover & restore the corrupt or lost Access Database passwords in few steps without any risk of data loss. Our Access Password Recovery software for MS Access Database is an simplest way to bring your lost Access Database Password back. MDB Password Recovery utility application recover access password in efficient and prominent way without wasting precious time.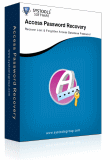 Starting 19 USD
List of Features that Access Password Recovery Software Exhibits
Trial Version Limitation
Try Demo Version of Access Password Recovery, it only recovers only the first 2 characters in passwords. To recover & save the complete passwords purchase the Full License of the software
Full Version for Comprehensive Results
Recover complete password from protected MDB file with the FULL version of SysTools Access Password Recovery.
System Requirements
Support: Microsoft Windows 2000, 2003, 2008, XP, Vista, or Windows 7 (32-bit or 64-bit)
Processor: 1 GHz Processor (2.4 GHz is recommended)
RAM: 512 MB of RAM (1 GB is recommended)
Disk Space: Around ~9Mb for installation
Support: Microsoft Access 2000, 2003, 2007
You May Also Be Interested In These Software

69 USD
SQL Password Recovery
The application to reset the password for SQL server users and It will reset the password of SQL 2000, 2005 & 2008 server.

17 USD
VBA Password Remover
To reset the password of VBA projects files use VBA Password Remover and recover the VBA password from .doc, .xla, .xls files.

69 USD
Access Recovery
Repair MDB and ACCDB both files using highly advance recovery solution named as Systools Access File Recovery.